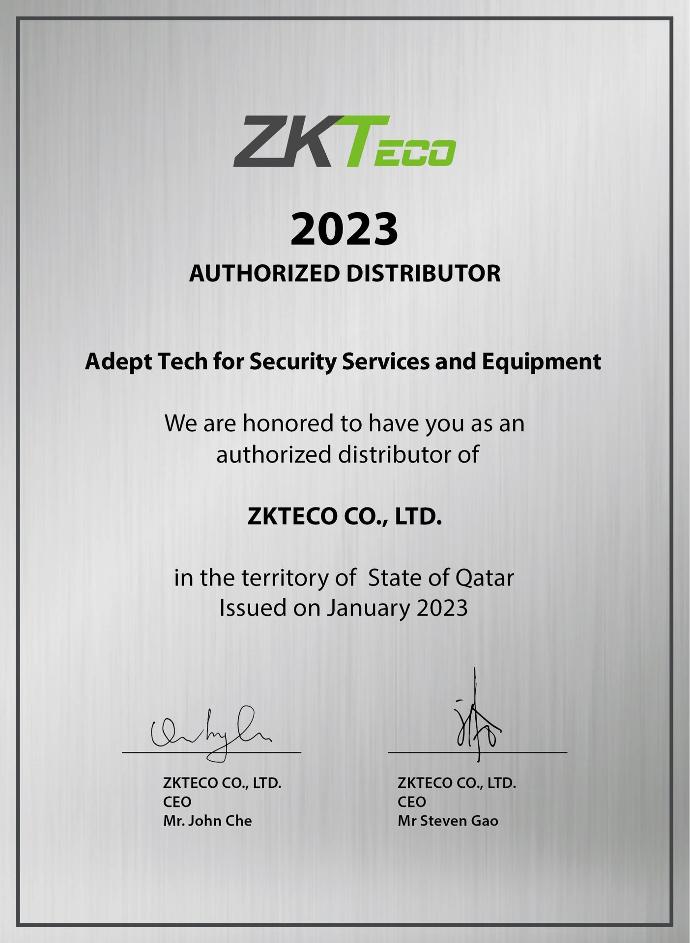 Authorized National Distributor of ZKTeco in Qatar
ZKTECO CO., LTD is an internationally renowned enterprise which specialises in pioneering biometric recognition techniques, and provides products and solutions of smart entrance management, smart identity authentication and smart office. ZKTeco offers services on all fronts to public-service, enterprise-level and personal users.
Adept Tech is the Authorized National Distributor for ZKTeco product line in Qatar. As the National Distributor of ZKTeco in Qatar, Adept Tech provides a wide range of products and solutions which caters the growing demand for smart technology based solutions. These solutions includes everything from Time Attendance Solution, Access Control, Security Inspection Solution, Smart Locks to POS Systems and many other solutions which can transform the way of living and do business.
HOLOWITS National Distributor Contract
Adept Tech recently signed the exclusive national distributor contract with HOLOWITS. This agreement provides us with the opportunity to provide wide range of HOLOWITS products for homes, offices and other business entities which requires high -end security solution.
HOLOWITS is a global provider of intelligent Internet of Things (IoT) products and solutions based on multi-dimensional awareness technologies, and integrates a broad range of capabilities such as R&D, production, distribution, sales and service capabilities.HOLOWITS is endowed with intelligent vision technologies, a full-fledged industry chain, and powerful technical support capabilities. Responding to the ever-growing global demand for visual intelligence, HOLOWITS is committed to developing AI-enabled Software-Defined Camera (SDC), intelligent video storage and computing platforms, as well as cloud services.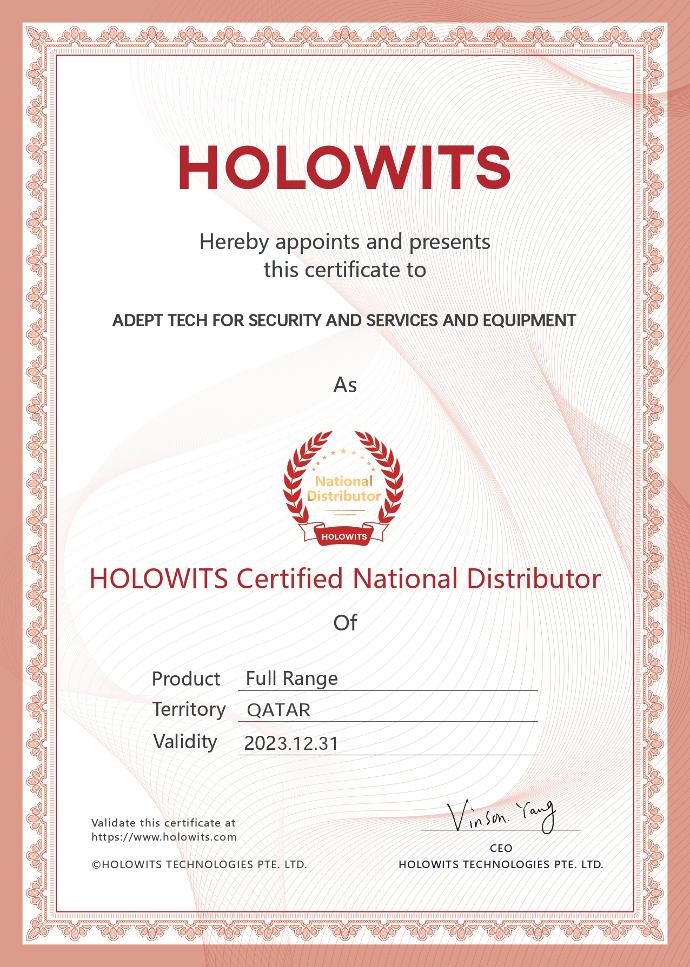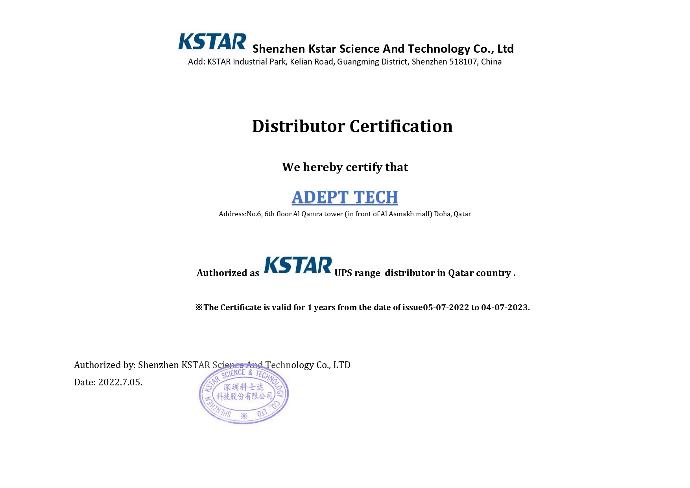 KSTAR Exclusive Distribution -
Globally 5th Largest UPS Manufacturer
Adept Tech recently obtained the Exclusive Distribution from the entire range of KSTAR UPS and VRLA batteries in Qatar. KSTAR is one of the largest UPS manufacturer and ranked as the 5th largest brand globally. With advanced technology and competitive market pricing, KSTAR is well positioned to the growing demand for UPS related requirement in Qatar.
Authorized Distributor for TEKNOLINE in Qatar
Adept Tech is the authorized distributor of Teknoline for the distribution, supply, design, installing and commissioning of Teknoline SMATV Solutions in Qatar. Partnership with Teknoline and Adept Tech strives on 4 key components which are;
- Reliable solution to address the growing demand in the region
- Result focussed approach
- Competent team to assist in any situation during and after product purchase
- Striving for innovation in line with customer needs and requirement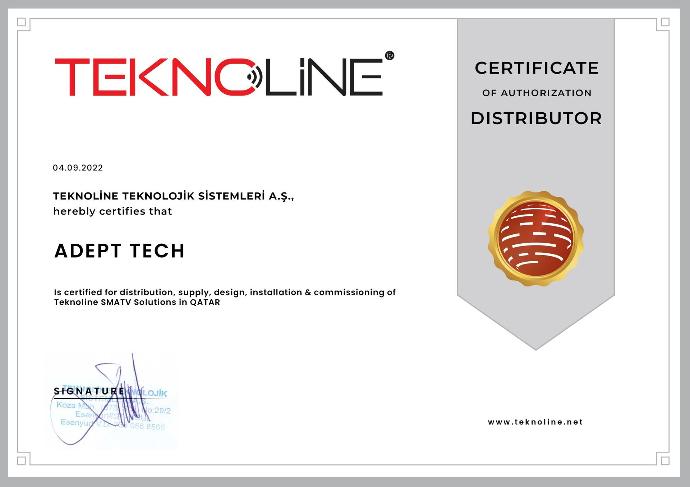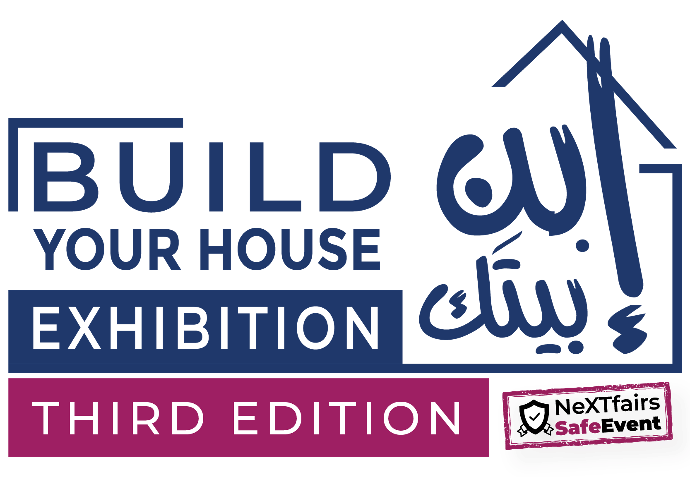 Build Your House Exhibition 2022


Adept Tech as a pioneer in implementing innovative marketing approach in the way we do our business recently participated in the 3rd edition of Build Your House exhibition. As the National Distributor for Dahua Technology in Qatar, Adept Tech represented the event through involving its retail partner network. This created an opportunity for our retail partner network to present their products and solution while generating leads and providing a platform to create brand visibility to a wider audiences.
At Adept Tech we always believe in mutual growth with our partners and clients.
Dahua Partner Day 2021
As the National Distributor of Dahua Brand in Qatar, Adept Tech in coordination with Dahua's regional team held its annual partner felicitation ceremony to honour its partner network for their continuous support towards the brand. Through adept tech's continuous marketing initiatives and showroom support, we were able to make Dahua Technology as one of the leading security surveillance brands in Qatar. With our partner network, we believe that we will be able to make a change in the life of millions through making the product accessible to everyone.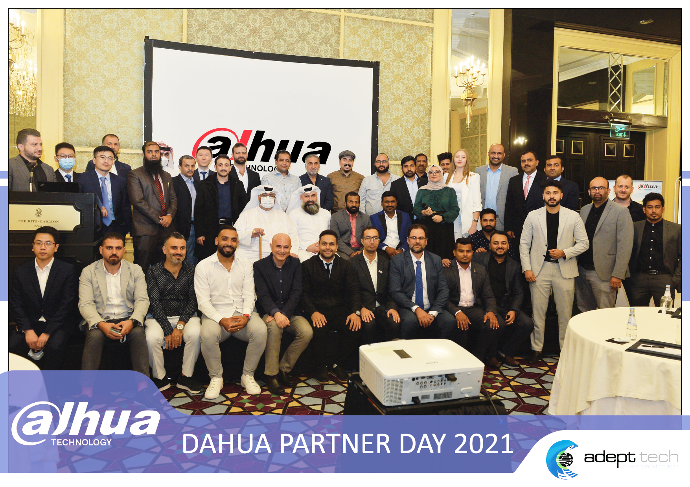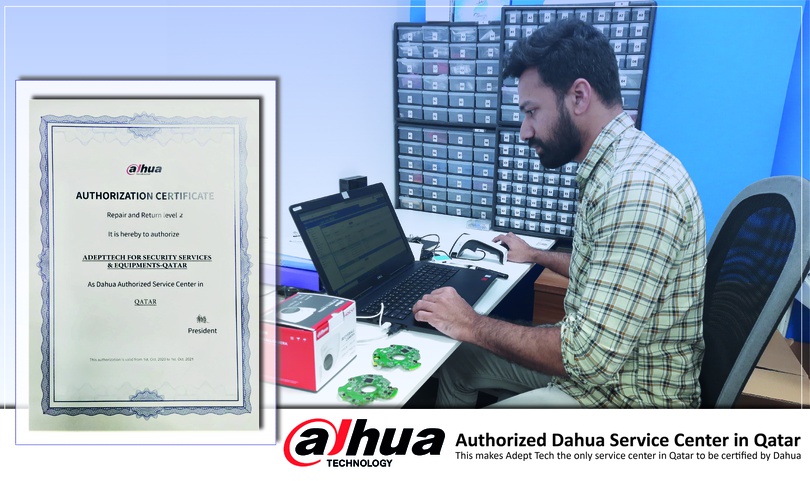 Dahua Authorized Service Centre
As one of the leading security solution provider in Qatar, Adept Tech has always been on top of its game when it comes to providing unparalleled service to its valued customers. Adept Tech was recently certified as the only Authorized Service Center for the brand Dahua fulfilling the void created in the market and to address service related issue faced by customers of Dahua brand in Qatar.
At Adept Tech we believe that this would create an environment for customers to purchase and use Dahua Technology products as their preferred brand for all their security surveillance needs without worrying about future service requirement.
Dahua Partner Felicitation Event
Fulfilling the vision of Dahua Technology and as the National Distributor of Dahua brand in Qatar, our quest towards bringing a positive impact to the life of many through offering diversified products and services could never be achieved without our partners.
The felicitation event was organized to mark the immense contribution provided by all Dahua Partners and the service provided by them to reach and make a change in the life of millions through making the product accessible to everyone. The event also featured the distribution of Dahua Partner certification for number of existing retailers as well as new retailers who joined as a Dahua Partner.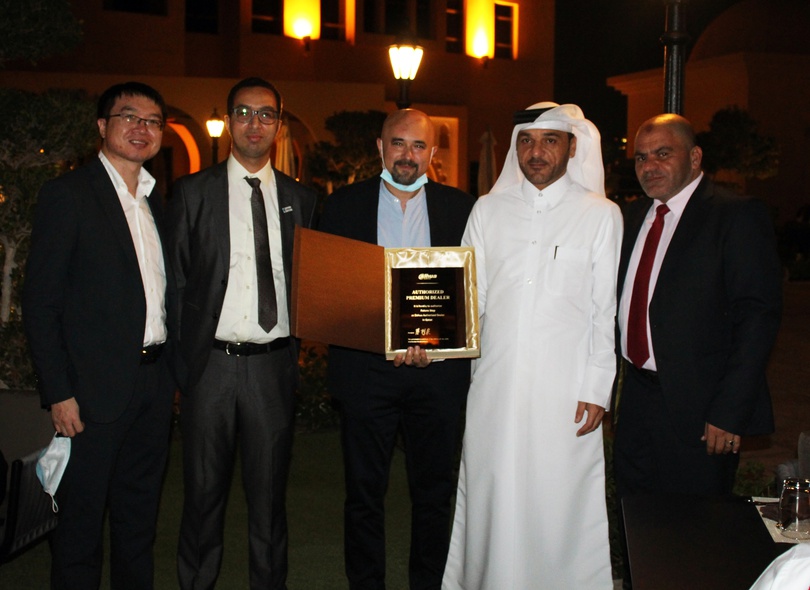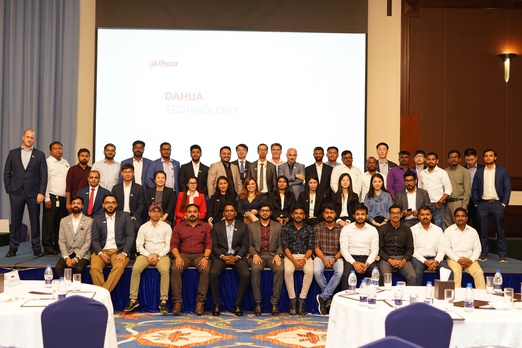 As the National Distributor of Dahua products in Qatar, Adept Tech co-hosted the annual Dahua seminar. The event was shared by retailers, key clients, partners and staff from Dahua MENA office. The seminar addressed some key developments in the region and the participants were given a glimpse of new products and solutions which were under development to cater the growing demand for security surveillance and CCTV in Qatar.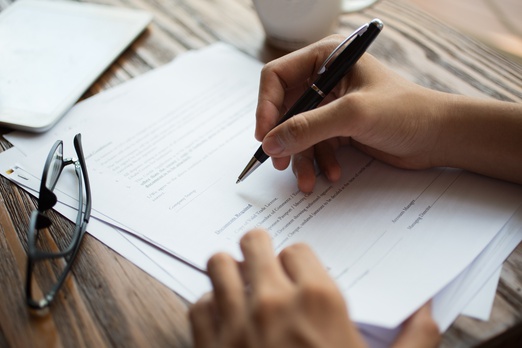 Authorized National Distributor
Adept Tech and Dahua Technology signed the partnership for the supply of Dahua products in Qatar. This includes products such as Surveillance Cameras, Access Control, Accessories and complete set of Security Solution. With this agreement now businesses and property owners could have access to one of leading solution provider in the security surveillance industry.




Authorized Distributor of GSS
Adept Tech obtained the distributor certificate from Grundig SAT System to operate within Qatar. This provides Adept Tech with the opportunity to cater wider audience and satisfy wide range of businesses and customers.



ZKTeco Attendance & Access Devices Sales Training


Date & Time - 19th March (10.00am - 12.00PM)
Target Audience & Level - Sales Engineer, Pre-Sales Engineer
Certification - Yes
ZKTeco Attendance & Access Devices Technical Training


Date & Time - 22nd March(10.00 AM - 12.00 PM)
Target Audience & Level - Project Manager, Technician, Site Engineer
Certification - Yes
Ruijie Access Point Training




Date & Time - To be announced
Target Audience & Level - To be announced


Certification - No